Follow our Attractions on: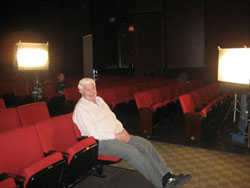 Producer Don Hughes is ready for his close-up, Mr. DeMille! Don is pictured just before he was interviewed for THE PEKING ACROBATS 3D TV Special, taped in Albuquerque, NM.As part of their 25th Silver Anniversary Tour, in April 2011, THE PEKING ACROBATS were filmed live in concert by Center City Film & Television for NBC/Comcast's new 3D Television Channel! THE PEKING ACROBATS are proud to once again be on the cutting edge of entertainment technology.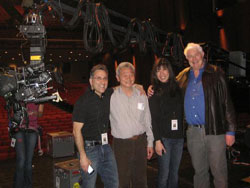 L to R: Center City Film & Video's Director Steve Cipollone, IAI Artistic Director Ken Hai, Center City Film & Video's Producer Susan Devers, and IAI Producer Don Hughes are all smiles, shown with the 3D boom-camera, during the 3D taping of THE PEKING ACROBATS in Albuquerque, NM. We think it looks like a Robo-Cam! Their 3D Television Special, featuring THE PEKING ACROBATS in performance, and including interviews with the show's Producers, Cast, and Crew, now airs regularly on NBC/Comcast's 3D Television Channel, Xfinity. Fans should watch their local listings to catch this exciting new 3D TV Special and experience THE PEKING ACROBATS like never before!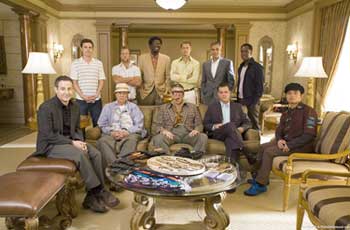 The Peking Acrobats make the scene on the silver screen as Company members were featured in Steven Soderbergh's hit film Ocean's 11 playing along with Hollywood's elite such as Julia Roberts, Brad Pitt and George Clooney. The Peking Acrobat's Shaobo Qin is featured in all three movies in this series (Ocean's 11, Ocean's 12 & Ocean's 13) as the gang's Grease Man a.k.a. The Amazing Yen.

As the producers of the Peking Acrobats and many other awesome attractions, IAI Presentations, Inc. creates exciting entertainment experiences for audiences world-wide. Our shows have been featured on numerous television shows and celebrity-studded TV Specials. As an example, The Peking Acrobats set (and still holds) the world record for the Human Chair Stack live on Fox's GUINNESS WORLD RECORDS PRIMETIME show where they astounded audiences with their bravery and dexterity as they balanced six people precariously atop six chairs 21 feet in the air without safety lines! The Peking Acrobats and the Moscow Boy's Choir were featured in television specials by HDNet which air regularly on that network.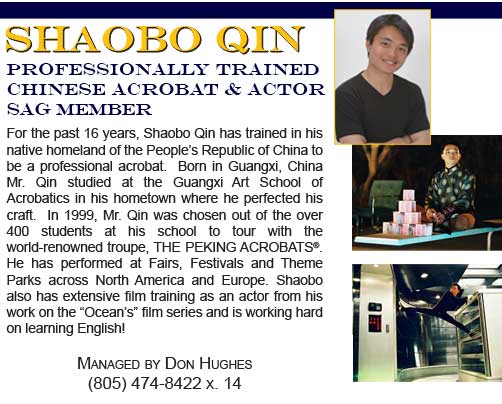 Contact Info
The Peking Acrobats and our other attractions are available for feature films, television appearances and commercials. For further information and inquiries, contact IAI at:
don@iaipresentations.com

The Peking Acrobats®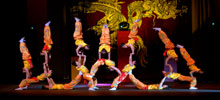 The Moscow Boys Choir®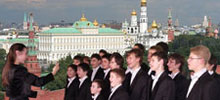 Film Appearances
The Peking Acrobats
Ocean's 11
Ocean's 12 (Featuring Shaobo Qin)
Ocean's 13 (Featuring Shaobo Qin)

TV Appearances
The Peking Acrobats
NBC/Comcast 3D Television Special
Ellen's Really Big Show
Nickelodeon's Unfabulous
Norway's Artist Galla
The Wayne Brady Show
Guinness World Records Primetime
That's Incredible
ABC's Wild World of Sports
NBC's Ring in the New Year
Bring in the Holidays at Longwood Gardens
HDNet's In Focus
The Liberace Show
Italy's RAI Television
The Moscow Boys Choir
Russia's Culture TV
HDNet's In Focus
The Russian National Cinema Awards
Russia's Steps